I introduced
Project Fun
last week. After I wrote the post, I felt like I didn't give many ideas for things to do that are truly fun but don't cost anything. Well, leave it to the kiddos to come up with something. The turtle and the monkey were playing with balloons (supervised of course). We were pumping them up, tossing them around, and looking at the different sizes. This wasn't what I would call "Project Fun" material, but little did I know. The turtle brought me a little tiny balloon and asked what it was. I said I thought it was a water balloon. So hubbie filled one up and showed him how it worked (outside). He also availed him of stories of water balloon fights he had as a kid. So the turtle comes inside, looks at me, and says, "Can we have a water balloon fight?"
Here is what goes through my mommy mind:
It's late. You've already had baths. You're in your PJ's. I don't want to.
Something inside of me said yes. We all put on our crocks and headed outside. Here is a picture of the before:
Notice the bowl full of balloons!
Here is the after: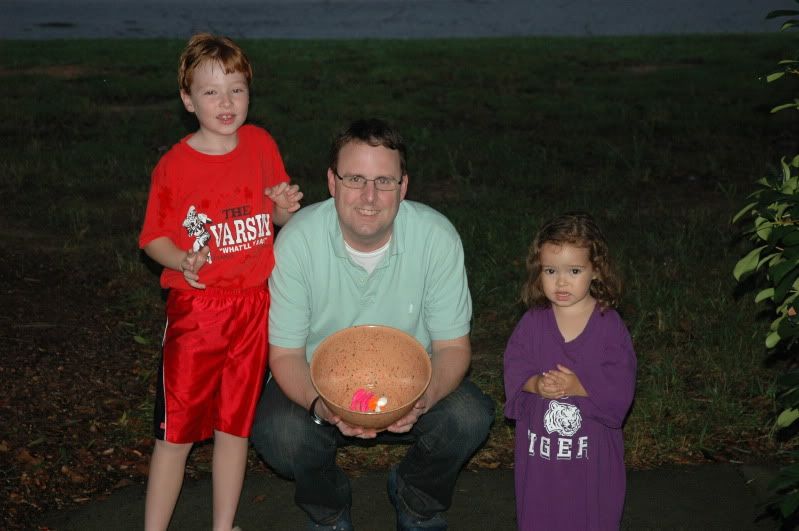 No, you aren't seeing things. Those are the balloon scraps in the bowl, and we are all COMPLETELY dry! It was the driest water balloon fight in history. Every single balloon bounced off the person/target and then proceeded to explode on the ground. I have to think that was God's way of rewarding me for instilling a little fun into the kiddos evening!