For my daughter's 2nd birthday I wanted to get her a Little Tikes type playhouse. Something like this:
The problem is they are between $200 and $300. NOT in my budget for her birthday. What I found was a 15 year old cottage that I bought for $60. It WAS NOT what I wanted! And it was stinky. REALLY stinky. I know I paid too much. I know the person needed the money. It was a win for both. Here's a few before pictures of it in pieces.
I decided that I needed to bring out the spray paint for plastics. This stuff is great. I've used it a lot with great results for items inside the house (making my trashcan match the kitchen, painting matching plastic containers, etc.) This is the first project that I have done for outside and I'm still waiting to see how it holds up. My Home Depot was limited in the color selection but I picked up 2 cans of black, a can of sunrise red, and 4 cans of a creamy taupe color. And here's the result!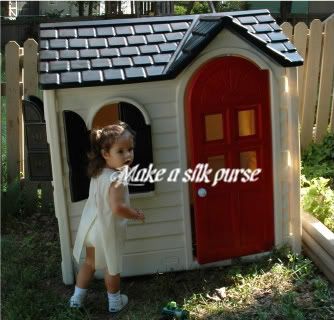 I did not add the kitchen sink and counter to the inside. It was just too far gone. I'll probably look for some plastic chairs to add to the inside. It cost less than $100 and NO ONE else has this house. I replaced the handle with a golf ball (I just used a drill to make a pilot hole in it and used the original screw). I want to add some vinyl letters (maybe her monogram) to the door. She LOVES it!
A few tips I learned from this project. DO NOT do this in 95 degree heat. It does not make a happy mom! Buy one of the pop on handles for spray cans that help you spray. It helped the paint go farther and kept my hands clean. I will never spray paint without one again! I spent about $3.00 on it. Children love seeing their parents work on something for them. She keeps asking, "You painted this for me? It's my house?" Too CUTE!
Have you painted anything with plastic spray paint?